---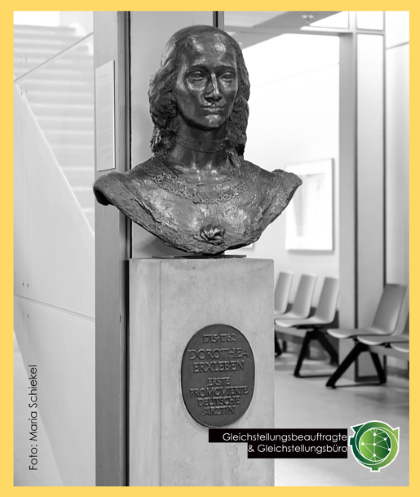 ---
Contact
Gleichstellungsbeauftragte/-teams
- der Gesamtuniversität
- der Fakultäten und fakultätsunabhängigen Bereiche
Büro der Gleichstellungsbeauftragten
phone: (0345) 55 -21359
fax: (0345) 55 -27099
gleichstellungsbuero@uni-ha...
Barfüßerstraße 17
06108 Halle (Saale)
Bürozeiten: Mo–Fr 8.30–15.00 Uhr
Sprechzeiten: nach Vereinbarung
Kontakte aller Gleichstellungsbeauftragten
---
---
Login for editors
---
Women and TIN-persons at MLU
To increase the visibility of women and TIN-Persons at MLU we want to present some of them which achieved outstanding things in the past and present.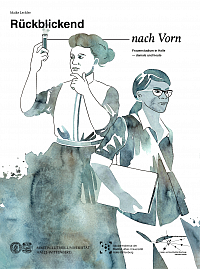 For the past we want to indicate to the following booklet: "Rückblickend nach Vorn. Frauenstudium in Halle – damals und heute"
<b>Dr.in Annegret Wolf interviewed by MDR about young people's fear of war</b>.
Dr.in Annegregt Wolf gave an interview to MDR about young people being afraid of war in Europe. She is a psychologist at MLU.
You can hear the podcast episode here.
<b>Dr.in Gabriele Meyer receives honorary doctorate from the University of Turku</b>.
Since 2013, Dr.in Gabriele Meyer has held the professorship of health and care science at the University of Halle. She is also a member of the Vice Dean's Office for Gender Issues. She has now been awarded an honorary doctorate by the University of Turku in Finland for her services to the development of research and education in nursing science.
Translated with www.DeepL.com/Translator (free version)
Dr. Katrin Krüger is the new director of the Studienkolleg
She has already lived and worked in Namibia and England. As the new director of the Landesstudienkolleg, she is now dedicated to international applicants.
Federal Cross of Merit for Prof. Dr. Jutta Schnitzer-Ungefug
The chairwoman of MLU's Board of Trustees was awarded the Order of Merit of the Federal Republic of Germany by German President Frank-Walter Steinmeier. Schnitzer-Ungefug was formerly secretary general of the National Academy of Sciences Leopoldina.
More here.
Director of the Instutute for Health and Care Science Prof. Gabriele Meyer was interviewed
Prof. Gabriele Meyer is Director of the Institute for Health and Care Science at MLU. Recently she gave MDR Kultur an interview about the challenges for health care facilities.
More here.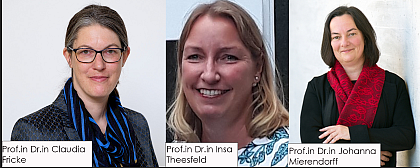 <b>New appointed: Prof. Dr. Claudia Fricke</b>
Since April 1st 2021 Prof.in Dr.in Claudia Fricke is prpfessor for animal ecology at the Scientific Faculty I.
SHe researches the interaction between environment, sexual selcetion and reproduction. Arti cle
<b>Prof. Dr. Insa Theesfeld is now IASC-President</b>
The agrarian econemist Prof. Dr. Insa Theesfeld is now President of the International Association for the Study of the Commons (IASC) which engages in use and management of common property. Since 2019 Theesfeld was as President-Elect" together with her forerunner in office. Read the article here.
Portraits of four female researchers plus one talk with Prof. Dr. Johanna Mierendorff, Prorector for Staff Development and Structure

The four researchers Dr. Maria Ott, Prof. Dr. Caroline Meller-Hannich, PD Dr. Ulrike Witten und Dr. Annegret Wolf do major research at MLU. Their portraits plus one interview with the prorector for staff development and structure Prof. Dr. Johanna Mierendorff about challenges in carrier and young academics promotion and equal opportunities at MLU are to find in "scientia halensis" 2/2020.

MLU-Alumnus Philine Lewek gets Hochschulpreis
The theologian Philine Lewek got the Werner-Krusche-Hochschulpreis by protestant church in central Germany (EKM) and Saxony-Anhalt for her final year project about the definition of Occident and its use by Neue. She will do further researches on this topic as docotoral candidate in Rostock. Arti cle
<b>Between Equality Work and Music Education: Dr. Kathin Hirschinger</b>
Beside her work as scinetific contributer at the institute for school pedagogy and elementary school didactics, Dr. Kathin Hirschinger is active in the Equal Opportunities Office for 12 years now. 2010 the postdoctoral music educationist got eleceted as Equal opportunities Officer for the first time and always again. She gave a very personal interview a view years ago for the online magazine Campus Halensis which gives insight in freetime, family and job.
Juliane Müller is referent for the Staff Position Diversity and Equal Opportunities which was established in 2019
Since August 2019 Juliane Müller ist referent for the Staff Position Diversity and Equal Opportunities of the rectorate at MLU. The economic psychologist is not new in this area because she did a doctors degree with the topic `Carrier and Staff Development of Female Scientists`Campus Halensis reported on the "Wellbeing-Manager" , her carrier and goals as referent. Currently she is exempted from her work as referent to concentrate on her qualification work. Her representation is Martina Langnickel.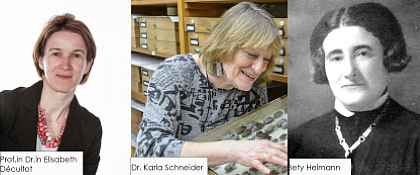 Humboldt Professor Elisabeth Décultot Decides For Halle
2015 Prof. Elisabeth Décultot got an Alexander von Humboldt professorship as first literature scientist. It is the highest internatioanl research awards in Germany. But she came to Halle. Recently she was appealed for the excellency university in Hamburg. The scientist refused this offer. Her decision to stay in Halle is an important sign for resolution research in Halle. The professor for new age culture of writing an european knowledge transfer is teaching at the German Philology Institute and member of the directorate of IZEA. You can read more here .
A bug named Karla Schneider
SInce 1994 Dr. Karla Schneider is leading the Entomological Collection and since 2011 the whole Zoological Collection of Halle. Now a lebanese bug was named by her. It´s not the first time that scientist gets such an honor. Besides her function as prima, she works as Equal Opportunities Officer as MLU for many years now. You can read more here .
Betty Heimann - the first private lecturer in Halle
The category "Great Names" of the online magazine Campus Halensis is remembering at outstanding scientists from Halle - also at Betty Heimann who habilitated in Indology in 1923.
Award for Christine Piotrowski and Lisa Lampp
For her outstanding dissertations at the Institute for Pharmacology at MLU, the scientists Dr. Christine Piotrowski and Dr. Lisa Lampp got the Science Award of the Company Bayer Bitterfeld GmbH .

Susanne Hübner in the management of TransferAllianz e.V.
The German Union for Knowledge and Technology Transfer (TransferAllianz e.V.) elected Dr. Susanne Hübner , Leader of the Transfer and Founder Service of MLU, in the magaement. The Media- and Communication Scientist is prospective responsible for the new ressort of Knowledge Transfer.
Teaching Award 2019 for Christiane Luderer
The Teaching Award by Studenst of the Medical Faculty of MLU which is worth 10.00 Euros was granted to the Health and Care scientist Dr. Christiane Luderer in autumn 2019. Her "high engagement" in Teaching and Students Care plus her "enthusiasm for the topic and divers didactic instrumenst" spoke for her distinction.
Bundesverdienstkreuz for the Plant Geneticist Ulla Bonas
For her credits in the scientific landscape Prof.in Dr.in Ulla Bonas was given the Bundesverdienstkreuz am Bande . Besides her professorship for Genetics at MLu she is Representation of the President of Leopoldina and Scientific Director of the Alfried Krupp Scientists College in Greifswald.
Succses in Science, Sports and Economy - Dorothee Kern
Prof. Dr. Dorothee Kern fount the base of her carrier at MLU. For more than 20 years now she lives, researches and teaches in the USA and is founder of a Company for the Creation of innovative medicine which is worth a million. The biophysicist and biochemist was portaied during a visit in Halle by Campus Halensis.

Chauvinism in OP, compatibility of job and family and carrier chancees for women in medicine - Heike Kielstein in an Interview
Prof. Dr. Heike Kielstein is professor at MLU and dircetor of the institute for anatomy and cell biology. Originally she wanted to be a surgeon but then her decision fell for research and teaching. In this areas she is stands for the promotion of women. Interview
From the view of a mathematics professor - Rebecca Waldecker
During her time at university the mathematician Prof. Dr. Rebecca Waldecker sometimes was the only woman in her lectures. Since then, she says, times has changed. The online magazine Campus Halensis published an interview with the professor which deals not only with mathematics but also with role models, equality and the new guideline at MLU.
Award for Lucy Bütof
For the presentation of the topic of her dissertation at a conference of International Society for Zinc Biology (ISZB) at Zypern Lucy Bütof was given an award as young academic. The postgraduate was supportet for her participation at the international conference through the Frauenförderprogramm by MLU. To the Article

Promotion for excellent young female academics with children - Constanze Pinske
Dr. Constanze Pinske, microbiologist at MLU and mother of two, gets a scholarship by Christiane Nüsslein-Volhard-Foundation for talented scientists with children to be supported in the areas of household and care. Therefore the postgraduate hasmore time for her research work and her family. How the compatibility between family and research works is to read in the onlinemagazine Campus Halensis .
Anke Berghaus-Sprengel is new head of VDB
Anke Berghaus-Sprengel, direktor of the university and federal library, was elected to be head of the Association of German Librarians (VDB).
More here.
Annette Kopetzki becomes DÜF Guest Lecturer at MLU
The translator for literature Dr. Annette Kopetzki becomes guest lecturer for the winter semester 2021/22 at the Institute for Romance Studies. Kopetzki translated for example the work of Pier Paolo Pasolini and Roberto Saviano from italian to german and carries the Paul-Celan-Award by the German Literature Fond.
More here.
Prof. Dr. Jenny Haase new at MLU
The literatures and cultures of Spain and Latin America are research topics of Prof. Dr. Jenny Haase. Since September she is a new professor for Literature- and Cultural Science of Spain and Latin America at MLU.
More here.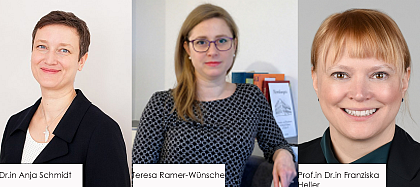 Dr.in Anja Schmidt about her research
Dr. Anja Schmidt, Legal Scientist at JWF of MLU, works at a new proposal for juristic classification of the terms "pronography" and "sexual self-determination" and the contact with them.
Teresa Ramer-Wünsche gets award for her dissertation
The musicologist Teresa Ramer-Wünsche got the International Händel Research Award 2021 for her dissertation with the topic "Georg Friedrich Händels Parnasso in festa. Historisch-kritische Edition und Einzelstudien zur Werkgenese"in may.

More here.
New Appealed: Franziska Heller Becomes Professor For Media Science
On the 1st of august Franziska Heller starteet to work as professor for media science at the philosophical faculty II. Her specialties are audiovisual media in digital change, digital rememberance and comuniv´cation cultures and digital methods and Open Science.
More here.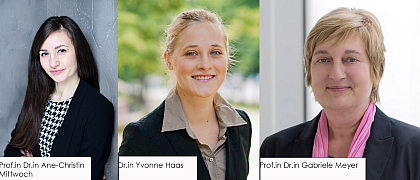 New appealed: Prof. Dr. Anne -Christin Mittwoch
Sustainibilty, social responsibility of companies and sustainible finance products are research topics of Prof. Dr. Anne-Christin Mittwoch. SInce October the 1st she is new professor for civil liberty, european and international economy law at MLU.
More here.
Kantorowitsch-Reasearch Award for Dr. Yvonne Haas
Dr. Yvonne Haas was given the Kantorowitsch-Research Award, which is worth 1.500 €, for her dissertation about "Business Models and Business Model Dynamics in Complex Industries – a conceptual, empirical and methodological analysis". It was granted to her by the Institute for Operations Research and Management at MLU.
More here.
Prof. Dr. Gabriele Meyer is President of the European Academy of Nursing Science again
Prof. Dr. Gabriele Meyer began to work as re-aproved president of EANS in july. She will be in office for three years. Goal of the network is to promote excellence in research, especially in the area of complex innovations.
More here.

<b>Prof. Dr. Anke Reichardt is Speeker of the Working Group "SchriftSPRACHerwerb"</b>
Goal of the working group is to support scientific comunication for German Didacts with a research focus on acquissition of language and acquissition of language and writing in elementary and primary areas.
Look here.
<b>Prof. Dr. Anke Steckelberg is second Representation of the Hwad of the German Network For Evidance-Based Medicine</b>
Sine july Prof. Dr. Anke Steckelberg is the second representation of the head of the network which was founded in 2000 to create and distribute concepts and methods for a evidence-based and patient-oriented medicine in practice, teaching and research.
More here.
<b>New appealed: Kirstin Erath is new professor for Didactics of Mathematics</b>
Since march she is teaching her specialties of didactics of mathematics for secondary level: Reconstruction of chances and barriers, creating of learning environments, examniation of felicity conditions and effectiveness in intervention studies.
More here.

New appealed: Katharina Markmann is new professor for Moleculary Genetics
Since april she is teaching her specialty of moleculary genetics of Wurzelknöllchensymbiose oflegumes, systematic signal transduction in plants through little RNAs, the role of "micro RNAs" in the control of root symbiosis and development and adaption of plant roots to environmental conditions.
More here.
Dr. Christine Klein gets Badge of Honor by Saxony-Anhalt
The research associate in musical padagogy Dr. Christine Klein was given the badge of honor by Saxony-Anhalt for her commitment in home care because of the 30 year long existence of the Federal Home Group.
More about Dr. Christine Klein here.
Dr. Katarzyna Woniak was given Jercy Giedroyc-Award
Dr. Katarzyna Woniak is research associate at the Aleksander-Brückner-Center for Poland Studies at MLU and was given the Jercy Giedroyc-Award of Marie Curie Sklodowska-University of Lublin for her book "Zwangswelten. Emotions- und Alltagsgeschichte polnischer 'Zivilarbeiter' in Berlin 1939-1945".

More about Dr. Katarzyna Woniak here.
Third Place For Luise Schäfer in Recition Compatition
The Speeking-Science-student Luise Schäfer reached the third place in the recition compatition "Paul Fleming" at the studio dtage of University of Münster.
More information here.
Prof. Dr. Anne-Katrin Neyer is Chief HR Officer
The Economy scientist Prof. Dr. Anne-Katrin Neyer is now Chief HR Officier of the nonprofit Do-Tanks "Women in KI". It´s a community which includes more than 8.000 members worldwide who are researching for inclusive KIs.
More here.
<b>Prof. Dr. Lucia Sommerer becomes Junior-Professor for Criminology, Criminal Compliance, Risk Management and Criminal Law</b>

Since december the 1st Prof. Dr. Lucia Sommerer is Junior-Professor for Criminology, Criminal Compliance, Risk Management and Criminal Law at MLU. She researches on the topic: How can criminality be predicted and which legal conditions are there for that?
More here.
Teaching Award @ward 2021 For Excellent Multimedia Courses Is Going To Information Scientist and Lecturer-Team
The teaching award 2021 was given to the diplome information scientist Anett Thüring and to the lecturers Dr. Friderike Lange, Maxi Mercedes Grehl and Maria Luise Gebauer. Thüring applied with her course "Objektorientierte Programmierung im ICMM" in which she taught programming.
<b>Prof.in Dr.in Katja Nebe was elected for deputy judge of constitutional court of Sachsen-Anhalt</b>
Katja Nebe was elected by the parliament of Sachsen-Anhalt to deputy keeper of the federal states constitution.
Dr.in Angela Kunow becomes female chancellor of university of Harz
Kunow took her office already in August and will stay there for eight years. As member of the rector`s office she is now leading administration and household. She studied business arithmetics at MLU.
Prof.in Dr.in Katrin Schlund gets a professorship for slavic languages
Since February 1st Dr. Prof. Katrin Schlund is appointed professor for slavic languages at Martin-Luther-Universität Halle-Wittenberg. She researches questions like "Which polite phrases do exist in slavic languages?" and "How are they different from the german language?".
<b>Dr. Martina Ahrendt becomes Fees Professor in the juridical area</b>
Dr. Martina Ahrendt is Federal Labor Judge and did her doctors degree at MLU. For several years now she is givin lectures and seminars about labor law.
More here .
<b>New Profesor: Prof.in Dr.in Simone Schultz-Balluff</b>
Since march the 1st Prof. Dr. Simone Schultz-Balluff is profesor for History of German Language and older german literature at MLU. Her Research Focus is middleaged literature from northern german nunneries, former texts about hunting and medial productions of the middleage in the present.
More here.
Materials Researcher analyzes Nano Worlds at MLU
The studied Chemist Dr. Juliana Martins de Souza e Silva did her doctors degree in Italy and researched at last at TU Munich. A special, highly modern X-Ray microscope convinced her now to come to Halle.
More here.
---
---