---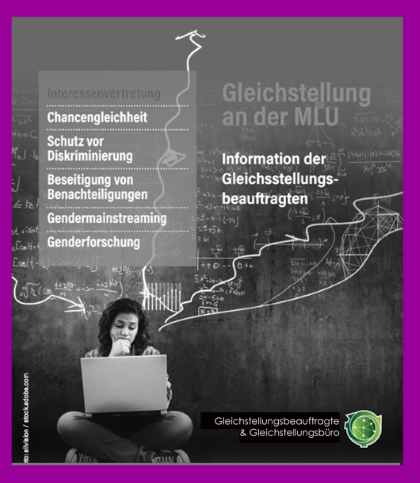 ---
Contact
Gleichstellungsbeauftragte/-teams
- der Gesamtuniversität
- der Fakultäten und fakultätsunabhängigen Bereiche
Gleichstellungsbüro
phone: (0345) 55 -21359
fax: (0345) 55 -27099
gleichstellungsbuero@uni-ha...
Barfüßerstraße 17
06108 Halle (Saale)
Bürozeiten: Mo–Fr 8.30–15.00 Uhr
Sprechzeiten: nach Vereinbarung
Team des Gleichstellungsbüros
---
---
Login for editors
---
Equal Opportunities Officers: Homepage
Welcome to the website of the Equal Opportunities Officers of MLU who are the representants of interests for gender equality.
On this website we inform you about us, our work and equality in science and at MLU.

Equal Opportunieties Officers and Office: Film and Presentation
Equality at MLU: Film
About us, our work and equality at MLU: Flyer
Contacts of all equal opportunity officers
(University, Faculties and non-faculty based areas)

Gleichstellungsbeauftragte-büro_Flyer_2021.pdf (4.5 MB) vom 01.12.2021

Gleichstellungsbeauftragte-büro_PPP_2022.pdf (4.4 MB) vom 27.04.2022
News
You can find News and Events here. The latest:
Equality World Days for the upcoming month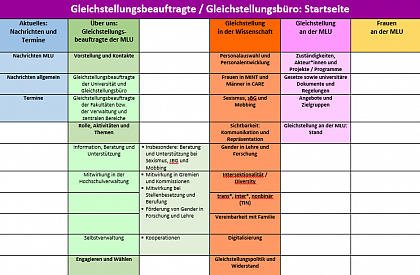 You can find the structure of this website with direct links leading to subsides below.

Struktur_3.12.21.pdf (517.4 KB) vom 03.12.2021
---
---