---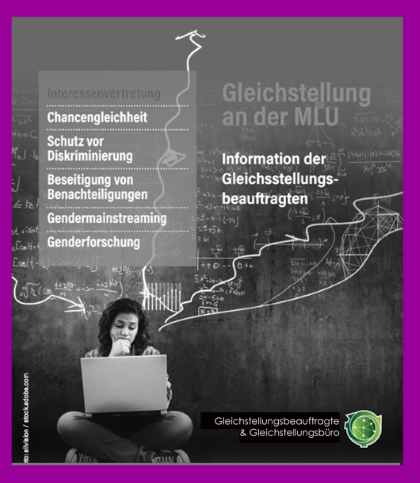 ---
---
Contact
Gleichstellungsbüro
phone: (0345) 55 -21359
fax: (0345) 55 -27636 (neu)
gleichstellungsbuero@uni-ha...
Barfüßerstraße 17
06108 Halle (Saale)
Bürozeiten: Mo–Fr 8.30–15.00 Uhr
Sprechzeiten: nach Vereinbarung
---
---
Login for editors
---
Equal Opportunities Officers: Homepage
Welcome to the website of the Equal Opportunities Officers of MLU who are the representants of interests for gender equality.
On this website we inform you about us, our work and equality in science and at MLU.

Equal Opportunieties Officers and Office: Film and Presentation
Equality at MLU: Film
About us, our work and equality at MLU: Flyer
Contacts of all equal opportunity officers
(University, Faculties and non-faculty based areas)

Gleichstellungsbeauftragte-büro_Flyer_2021.pdf (4.5 MB) vom 01.12.2021

Gleichstellungsbeauftragte-büro_PPP_2022.pdf (4.4 MB) vom 10.09.2022
News
You can find News and Events here. The latest:
Current survey by the Cologne-based Leibnitz Institute for Social Research on gender-based violence in European universities and research institutions
On 21.11.22 the space-for_theme day takes place on the occasion of the International Day against Violence against Women, inter*, non-binary, trans* and agender persons (FINTA*).A recent statement by the National Academy of Sciences Leopoldina identifies reasons for the continued underrepresentation of women in top scientific positions and makes recommendations to address it.The additional care required during the Corona pandemic was provided primarily by women, the German Aging Survey shows.
Equality World Days for the upcoming month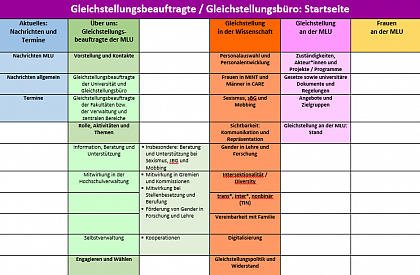 You can find the structure of this website with direct links leading to subsides below.

Struktur_3.12.21.pdf (517.4 KB) vom 03.12.2021
---
---