---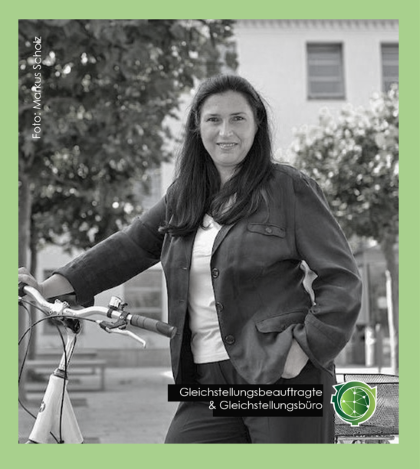 ---
---
Contact
Büro der Gleichstellungsbeauftragten
phone: (0345) 55 -21359
fax: (0345) 55 -27636 (neu)
gleichstellungsbuero@uni-ha...
Barfüßerstraße 17
06108 Halle (Saale)
Bürozeiten: Mo–Fr 8.30–15.00 Uhr
Sprechzeiten: nach Vereinbarung
---
---
Login for editors
---
Role, Activities and Topics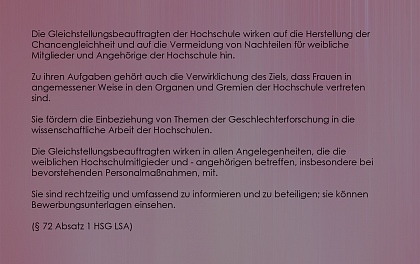 Overview
Role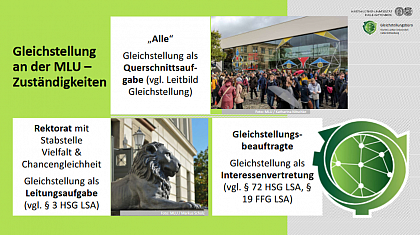 Activities
Equal Opportunities Officers represent interests. Their activities can be divided into the following areas:
PARTICIPATION: They work for the managment of the university to take equality seriously and to implement it.
OFFERS: They inform, advise and support with equality relevant concerns.
SELF-GOVERNMENT: They are qualifiing theirselves and networking, present their work and see through the elections.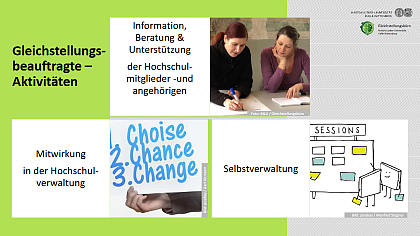 Topics
The Equal Opportunities Officers of MLU work on every equality relevent concern in science. (Topics)
Though in the workaday life, there must be prioritisation. Besides permanent topics (like staff selection and development, women in MINT, gender in research and teaching, sexism, sexualised violence and mobbing) they currently look into:
An indipendent equality relevant topic is compatibiliy of education, studies and job with family. For that we refer you to the Family Office.
Progress Reports

2008-2010 Tätigkeitsbericht GB-Wahl.pdf (310.6 KB) vom 27.04.2022

2012-2014 Tätigkeitsbericht GB-Wahl.pdf (375.7 KB) vom 27.04.2022

2014-2016 Tätigkeitsbericht GB-Wahl.pdf (330.3 KB) vom 27.04.2022

2018-2020 Tätigkeitsbericht GB-Wahl.pdf (4.9 MB) vom 16.10.2021

2021-2022 Tätigkeitsbericht GB-Wahl_PPP.pdf (4 MB) vom 27.04.2022
---
---